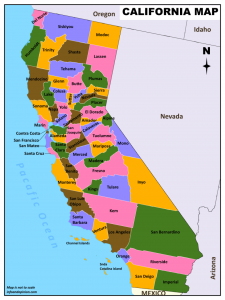 California Map
Here you can see and download the California Map for free. You can use this PDF map for educational and noncommercial purposes.
California is the most populous constituent state of the United States of America. This western state borders Pacific Ocean to the west, Oregon to the north, Arizona and Nevada to the east, and Baja California the Mexican state to the south.  California is the third largest state of United States of America by the area (approximately 163,696 square miles). Sacramento is the capital of California.
⊕All maps provided on this website are for educational purposes only and to give the visitors a rough idea of ​​the geographical location of the places. Therefore, we do not claim that it contains completely accurate information.