Government of India App-The government of India has developed several mobile apps through various departments to achieve its Digital India dream. All these apps are designed to make government services and facilities accessible to the public quickly and directly. Here we are introducing 5 important  Government of India Apps that are selected from those apps.
Government of India App
1.mAadhar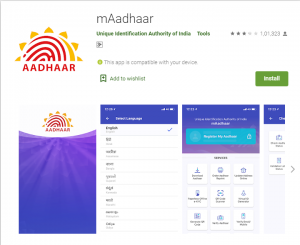 The new mAadhaar has been released by the Unique Identification Authority of India with the goal of reaching a large number of smartphone users. The app has an array of Aadhaar services and an individual section for the Aadhaar holder that can carry their Aadhaar information as a soft copy instead of carrying a physical copy at all times.
Multilingual: Aadhaar services are available to linguistically diverse residents of India, menus, button labels and form fields are provided in English as well as 12 Indian languages. The additional languages are Hindi, Assamese, Bengali, Gujarati, Kannada, Malayalam, Marathi, Odia, Punjabi, Tamil, Telugu and Urdu.
Universality: Residents with or without Aadhaar can install this app on their smartphone. However, to avail of individual Aadhaar services, the resident will have to register his Aadhaar profile in the app.
The mAadhaar user can avail of select services for themselves as well as for Aadhaar or any other resident for related assistance.
Aadhaar holders can include several (up to 3) profiles (with the same registered mobile number) in their profile section.
Government of India Apps
2.112india App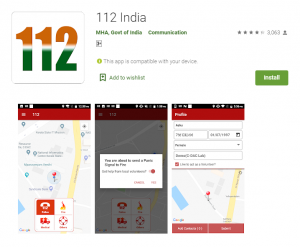 In case of emergency, the person in distress can take the help of local emergency service delivery departments and volunteers through the app. The app will send emergency alerts with the state emergency control room and the person's emergency contacts – with the user's details (name, age, emergency contact) and location information generated on '112'. Gives emergency warnings to local volunteers nearby when the system is available. Emergency alert volunteers have an audible sound/sound. The view is notified on a smartphone with a warning. Volunteers can mark their consent to help and the details of the volunteer with the photo and contact number will be sent to the distressed person.
Government of India App
3.MyGov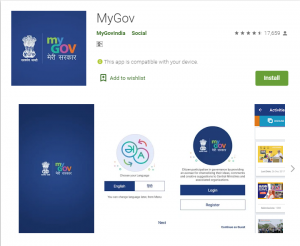 MyGov is a new platform for direct citizen participation of the government by providing avenues for channelizing their ideas, comments and constructive suggestions to the Union Civil Ministries and related organizations for direct citizen participation of the Government of India. Citizens can participate in policymaking and implementation of the program in the age of direct participation.
Government of India App
4.Umang
UMANG (Unified Mobile Application for New-Age Governance) is envisaged to make e-governance 'Mobile First'. It has been developed by the Ministry of Electronics and Information Technology (MITI) and the National e-Governance Division (NeGD).
It is a developing platform for the people of India, giving them access to pan-India e-Gov services from central, state, local bodies, and government agencies on app, web, SMS and IVR channels.
UMANG provides easy entrée to the plethora of Indian government services – healthcare, finance, education, housing, energy, agriculture, even utility, and employment and skills.
All government services are available on the integrated platform for easy access to citizens through multiple online and offline channels (SMS, email, app, and web).
Only one mobile app has to be installed instead of each app in each department.
If more services are added to the platform, citizens do not need to reinstall or update the app to avail government services.
Citizens can avail of these services anytime and anywhere through their mobile phones, desktops, and laptops, going to the department's office without any need to stand in queues.
All government services, including payment-based transactions, provide a secure and uniform experience
Government of India App
5.IRCTC RAIL CONNECT
IRCTC RAIL CONNECT is the official mobile app developed by Indian Railway Catering and Tourism Corporation Limited (IRCTC) for Train Ticket Booking. This app offers all services and facilities for booking tickets and traveling on an Indian train. The "IRCTC RAIL CONNECT" Android app helps book railway tickets anywhere in India at your fingertips. You can also check PNR status, timetable, seat availability, book your meals, change your boarding station and many more.