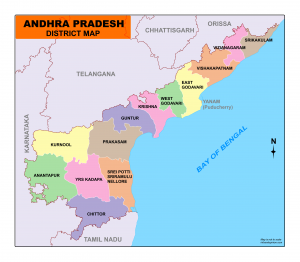 Andhra Pradesh Map – You can download the map of Andhra Pradesh as a PDF for free. You can use this map for educational and non-commercial purposes.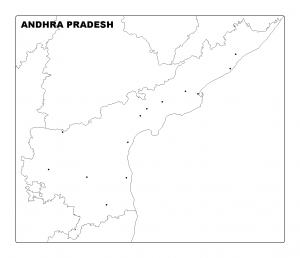 Andra Pradesh
Andhra Pradesh is located in the southeastern part of India. The state covers a land area of ​​160,205 km2 (61,855 sq mi) of the Indian subcontinent. Andhra Pradesh is the tenth most populous state with 49,386,799 inhabitants. Andhra Pradesh is bounded on the south by the Indian states of Tamil Nadu, Karnataka in the southwest and west, Telangana in the northwest and north, and Odisha in the north-east. The eastern border is 600 miles (970 kilometers) of coastline along the Bay of Bengal.
On June 2014, Andhra Pradesh divided into two states, Telangana and Andhra Pradesh. Hyderabad is the acting capital of Andhra Pradesh. The proposed capital city Amravati is undergoing development.
Vishakapatnam is the largest city in Andhra Pradesh. Other major cities are Vijayawada, Nellore, Kadapa, Kakinada, etc..
This Telugu speaking state is  divided into 13 districts. Anantapur is the largest district and the Srikakulam is the smallest district by the area in Andhra Pradesh.
List of District in Andra Pradesh
| | | | | |
| --- | --- | --- | --- | --- |
| S. No | District | Headquarters | Population | Area (in sq.km) |
| 1 | Anantapur | Anantapur | 4,083,315 | 19,130 |
| 2 | Chittoor | Chittoor | 4,170,468 | 15,152 |
| 3 | East Godavari | Kakinada | 5,151,549 | 10,807 |
| 4 | Guntur | Guntur | 4,889,230 | 11,391 |
| 5 | Kadapa | Kadapa | 2,884,524 | 15,359 |
| 6 | Krishna | Machilipatnam | 4,529,009 | 8,727 |
| 7 | Kurnool | Kurnool | 4,046,601 | 17,658 |
| 8 | Nellore | Nellore | 2,966,082 | 13,076 |
| 9 | Prakasam | Ongole | 3,392,764 | 17,626 |
| 10 | Srikakulam | Srikakulam | 2,699,471 | 5,837 |
| 11 | Visakhapatnam | Visakhapatnam | 4,288,113 | 11,161 |
| 12 | Vizianagaram | Vizianagaram | 2,342,868 | 6,539 |
| 13 | West Godavari | Eluru | 3,934,782 | 7,742 |