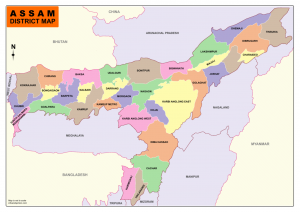 | | |
| --- | --- |
| Assam Map – In India | |
Assam Map – You can download the map of Assam as a PDF for free. You can use this map for educational and non-commercial purposes.
Assam is one of the 28 states of India located in the northeastern part of the country. The state Assam shares its border with the two neighboring countries of India. They are Bhutan in the north and Bangladesh in the south. The eastern border covers the states of Arunachal Pradesh, Nagaland, and Manipur. The southern border is shared with Bangladesh along with the states of Meghalaya, Tripura, and Mizoram. The narrow western border is covered by the state of West Bengal. The total land area of Assam is 30,285 square miles (78,438 square km).
Dispur is the capital of Assam.
Guwahati is the largest city in Assam.
Assam is divided into 33 administrative districts under 5 administrative divisions.
The List of Administrative Divisions
Division Name
Divisional Office
Districts
Barak Valley

Silchar

Cachar, Hailakandi, and Karimganj

Central Assam

Nagaon

Dima Hasao, Hojai, East Karbi Anglong, West Karbi

Anglong, Morigaon, and Nagaon

Lower Assam

Guwahati

Baksa, Barpeta, Bongaigaon, Chirang, Dhubri,

Goalpara, Nalbari, Kamrup Metropolitan, Kamrup Rural, Kokrajhar, and South Salmara-Mankachar

North Assam
Tezpur
Biswanath, Darrang, Sonitpur, and Udalguri
Upper Assam
Jorhat

Charaideo, Dhemaji, Dibrugarh, Golaghat, Jorhat,

Lakhimpur, Majuli Sivasagar, and Tinsukia
The List of Districts in Assam.
| | | | | | |
| --- | --- | --- | --- | --- | --- |
| Sl.No | Code | District | Headquarters | Population (2011) | Area (km²) |
| 1 | BK | Baksa | Mushalpur | 953,773 | 2,400 |
| 2 | BP | Barpeta | Barpeta | 1,693,190 | 3,245 |
| 3 | BS | Biswanath | Biswanath Chariali | 5,80,000 | 1,100 |
| 4 | BO | Bongaigaon | Bongaigaon | 2,060,550 | 1,724 |
| 5 | CA | Cachar | Silchar | 1,736,319 | 3,786 |
| 6 | CD | Charaideo | Sonari | | |
| 7 | CH | Chirang | Kajalgaon | 481,818 | 1,468 |
| 8 | DR | Darrang | Mangaldai | 908,090 | 1,585 |
| 9 | DM | Dhemaji | Dhemaji | 688,077 | 3,237 |
| 10 | DU | Dhubri | Dhubri | 1,948,632 | 2,838 |
| 11 | DI | Dibrugarh | Dibrugarh | 1,327,748 | 3,381 |
| 12 | DH | Dima Hasao | Haflong | 214,102 | 4,888 |
| 13 | GP | Goalpara | Goalpara | 1,008,959 | 1,824 |
| 14 | GG | Golaghat | Golaghat | 1,058,674 | 3,502 |
| 15 | HA | Hailakandi | Hailakandi | 659,260 | 1,327 |
| 16 | HJ | Hojai | Hojai | 931,218 | |
| 17 | JO | Jorhat | Jorhat | 1,091,295 | 2,851 |
| 18 | KM | Kamrup Metropolitan | Guwahati | 1,260,419 | 1,528 |
| 19 | KU | Kamrup | Amingaon | 1,517,202 | 1,527.84 |
| 20 | KG | Karbi Anglong | Diphu | 965,280 | 10,434 |
| 21 | KR | Karimganj | Karimganj | 1,217,002 | 1,809 |
| 22 | KJ | Kokrajhar | Kokrajhar | 930,404 | 3,129 |
| 23 | LA | Lakhimpur | North Lakhimpur | 1,040,644 | 2,277 |
| 24 | MJ | Majuli | Garamur | 167,304 | 880 |
| 25 | MA | Morigaon | Morigaon | 957,853 | 1,704 |
| 26 | NN | Nagaon | Nagaon | 1,892,550 | 2,287 |
| 27 | NB | Nalbari | Nalbari | 769,919 | 2,257 |
| 28 | SV | Sivasagar | Sivasagar | 1,150,253 | 2,668 |
| 29 | ST | Sonitpur | Tezpur | 1,925,975 | 5,324 |
| 30 | SM | South Salmara-Mankachar | Hatsingimari | 555,114 | 568 |
| 31 | TI | Tinsukia | Tinsukia | 1,316,948 | 3,790 |
| 32 | UD | Udalguri | Udalguri | 832,769 | 1,676 |
| 33 | WK | West Karbi Anglong | Hamren | | |