Chicken curry is a traditional non-vegetarian recipe, a delectable blend of aromatic spices and tender chicken. Let us start making the chicken curry and have it with rice, butter naan or chapatti or whatever you like. The recipe is here sharing with you is not categorized north Indian or south Indian. We sure that you belongs from anywhere in the region will be like this tasty chicken curry
Ingredients for Chicken Curry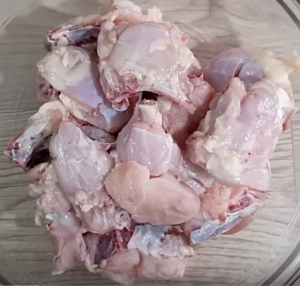 Chicken ½ kg
½ tsp of cumin seed
5 pieces of Clove
1-inch piece Cinnamon
1/2tsp of Fennel seed
1-inch long piece Ginger
Garlic – 8 to 10 arils
1/2 tsp of turmeric powder
1 tbsp red chili powder
3/4 tbsp of Kashmiri chili powder and
2 tsp of coriander powder into it
Black pepper powder -1 tsp
1/2 tsp of garam masala
2-3 tbsp of cooking oil
4 big onions sliced
4 chopped green chilies
2 small tomatoes chopped
Curry leaves 2 stalk
Green Coriander – For garnishing
Read
Preparation of Chicken curry
Before you start make chicken curry, make a paste with cumin seed, clove, cinnamon, fennel seed, ginger and garlic in a grinder or crush them all well.
Take a thick-bottomed Kadai / pan.
Pour 2-3 tbsp of cooking oil into it and it heats well. When the oil heated up, add cumin seed one stalk of curry leaves into it and saute it well
Add the paste made of cloves, garlic, ginger, and fennel seeds cinnamon add black pepper powder. Saute them well till the raw smell goes then It has got a very good smell.
The raw smell has gone. Now add the onion slices into it…Add enough salt, then add 4 chopped green chilies. Saute it until it has a brown shade. Add 2 small tomatoes chopped into it
Stir them occasionally even if you are using a nonstick pan. Cook the tomatoes by closing the Kadai on a medium flame. Stir them occasionally otherwise, a chance to burn the masala.
When the tomatoes are mashed up well in the onion masala, turn the flame into low. Add turmeric powder, red chili powder, Kashmiri chili powder, and coriander powder into it
Finally, add the garam masala
Saute them well until the raw smell of the powder goes. It takes some time to get it done. It took almost 10 minutes to remove the raw smell of the powders.
When the oil starts to separate from the masala, add the small chicken pieces into the masala
Close the Kadai and let the chicken curry cook in medium flame
There would be enough water in the chicken itself. Therefore, there is no need to add extra water into it
It would taste more if the chicken cooks in the water come out of it
Close the Kadai and let the chicken cook in its water itself. Stir occasionally
Even if you are using a nonstick Kadai, stir the curry occasionally.
The water has started to come out of the chicken pieces. Close it again and cook the chicken curry  well
Do not forget stirring it occasionally. If you want more gravy, add some boiled water into it. Do not add cold water, which may change the real taste of the dish
Let the chicken curry boil well. Thus, the chicken pieces would blend well with the masala
The oil begins to separates after 5 minutes of boiling
The oil on the top of the gravy indicates that the dish is ready
Add one stalk of curry leaves
Now the chicken curry is ready,
Switch off the flame and garnish with green coriander then let it cool for some time. You can serve it hot but the real flavor could be felt only when it gets cold.