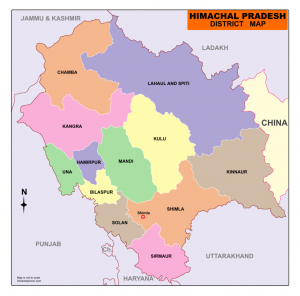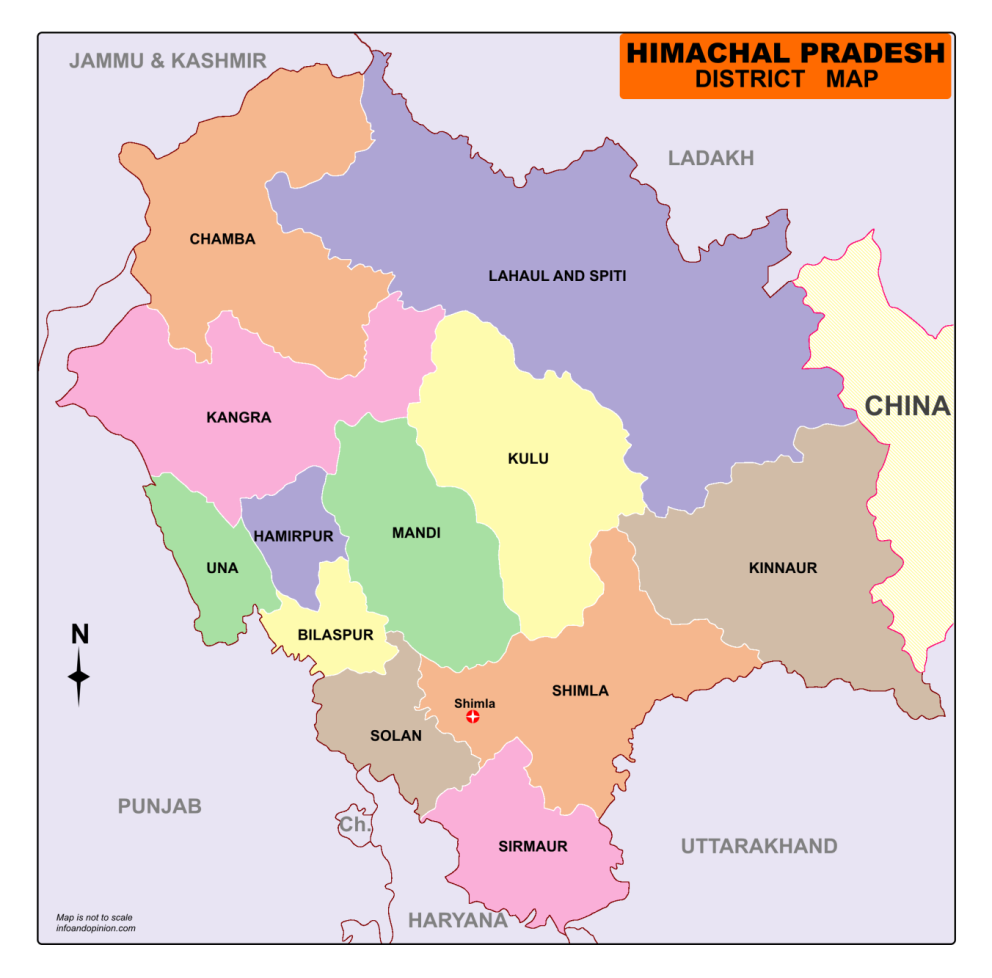 Himachal Pradesh Map-Outline
Himachal Pradesh Map-Download map of Himachal Pradesh free of cost in PDF format. You can use this map for educational and noncommercial purposes.
Himachal Pradesh is situated in the Western Himalayas in India. The union territories of Ladakh, Jammu & Kashmir lies in the north of Himachal Pradesh. Other borders are Punjab in the west, Haryana in the southwest and Uttarakhand in the southeast. On the east side of its border shared with the Tibet region of China. Its southernmost point of the border is connected with the state of Uttar Pradesh.
The land area of Himachal Pradesh is 55,672 sq.km and the geographical position is 30o 22' 40'' N to 33o 12' 40''N latitude and 75o 45' 55'' E to 79' 20''E longitude.
Shimla is the summer capital and Dharamshala is the winter capital of Himachal Pradesh.
Himachal Pradesh is divided into 12 districts. Lahaul & Spiti district is the largest district by area in Himachal Pradesh.
Himachal Pradesh District Map
List of Districts in Himachal Pradesh
| | | | | |
| --- | --- | --- | --- | --- |
| S. No. | District | Headquarters | Population (2011) | Area in km² |
| 1 | Bilaspur | Bilaspur | 382,056 | 1,167 |
| 2 | Chamba | Chamba | 515,844 | 6,528 |
| 3 | Hamirpur | Hamirpur | 454,293 | 1,118 |
| 4 | Kangra | Dharamsala | 1,507,223 | 5,739 |
| 5 | Kinnaur | Reckong Peo | 84,298 | 6,401 |
| 6 | Kullu | Kullu | 437,474 | 5,503 |
| 7 | Lahaul and Spiti | Keylong | 31,528 | 13,835 |
| 8 | Mandi | Mandi | 999,518 | 3,950 |
| 9 | Shimla | Shimla | 813,384 | 5,131 |
| 10 | Sirmaur | Nahan | 530,164 | 2,825 |
| 11 | Solan | Solan | 576,670 | 1,936 |
| 12 | Una | Una | 521,057 | 1,540 |