Important Tourist Places in Delhi for 2 Day Visit
Delhi is the capital of India. The city of Delhi is very ancient. Apart from its religious and political importance, Delhi is also very important in terms of tourism. In the Mahabharata period, it was known as Indraprastha.
After this, there were many foreign invasions here. There were many vicissitudes across the country. The existence of many states disappeared, but Delhi has existed for thousands of years. In Indian history, Delhi has been revered as the capital of India since time immemorial. Therefore, seeing Delhi as a historical city will never be an exaggeration.
Delhi is very important in terms of tourism. Many historical and religious buildings here hold special significance for tourists. This is the reason that millions of foreign tourists visit India every year, especially for visiting Delhi.
Apart from this, people from different states and remote rural areas of the country often come to visit Delhi. If you look at the historic Red Fort, Qutub Minar, Jama Masjid, Humayun's Tomb, Connaught Place, India Gate, etc., all of them are associated with some special event on the historical background.
We are here trying to describe some important tourist places in Delhi
Historical Tourist Places in Delhi
The historic Red Fort of Delhi is a major scenic spot here. It was built by the Mughal Emperor Shah Jahan. This huge fort is made of red stones. This fort was of the most important during British rule and it is equally important today.
Every year on 15 August, from the ramparts of this historic fort, the Prime Minister addresses the nation and hoists the national flag. Inside the Red Fort, Diwan-i-Khas, Diwan-i-Aam, etc., are several monuments of historical importance.
Connaught Place in the center of Delhi is called the heart of Delhi. It is a center of special attraction for all tourists. It was built very planned during the British rule. It has all the major trading centers.
Along with this, the movement here is always made on sight. The Palika Bazaar at its center has recently been constructed which is completely underground. Items of the country and abroad are found in this market. Jantar Mantar, located near Connaught Place, was constructed to estimate the time.
Tourist Places in Delhi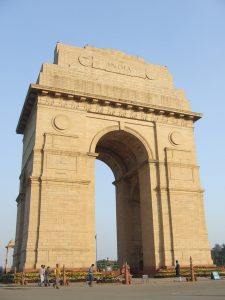 Apart from this, Jama Masjid, Purana Kila and Humayun's Tomb, India Gate, etc. are also important for the visitors. India Gate was built in memory of the Indian soldiers who fought on behalf of the British, who received the Veergati. Jama Masjid was also built by the Mughal emperor Shah Jahan. Humayun's tomb is located in Nizamuddin. In the context of the old fort, people believe that this fort was built by the Pandavas during the Mahabharata period.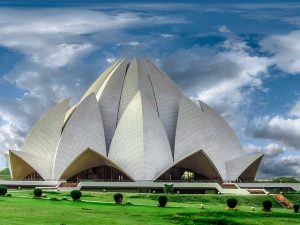 The Lotus Temple at Nehru Place is designed to be seen. Built-in lotus shape, this temple belongs to the Bahá'í religion where people of all religions can go and pray. There is a different way to pray here.
Visitors silently demonstrate their love towards the formless God located in the whole universe and the whole universe. Apart from this, Birla and Chhatarpur temples of Hindus are also important sightseeing places.
Other Major Buildings and Tourist Places in Delhi
The buildings of Rashtrapati Bhavan, Central Secretariat, and Parliament House are the main buildings of British rule. The 'India Gate' in front of Rashtrapati Bhavan still reminds us of the immortal martyrs who had attained heroism during the Second World War.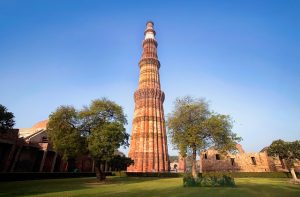 Delhi has been the focal point of all actions since its inception. Even in the modern era, it is the capital of India as well as a major political site where the influence of all political activities is seen throughout the country. Apart from this, there are head offices of all major government and semi-government departments.
The Supreme Court of India is also located here. Delhi is also a major center in terms of education where not only the country but thousands of foreign students also get education every year. The temples built in Chhatarpur are glorious. These temples are unique examples of modern construction art. Apart from this, people of every class, language, caste, and sect reside here. Delhi welcomes everyone with an open heart.
Delhi Map-Download Free Map of Delhi
Offical website:delhitourism.gov.in