Jaipur District At A Glance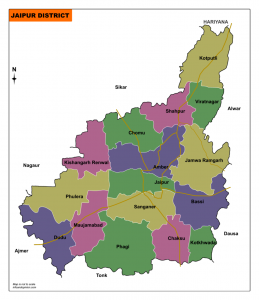 The total land area of ​​Jaipur district – 11,143 sq km
The map position of Jaipur district is 26 ° 23 ′ to 27 ° 51 ′ northern latitude and 74 ° 55 ′ to 76 ° 50 ′ eastern longitudes.
Total Forest Area in Jaipur district – 944.52 sq km
The total number of assembly constituencies in Jaipur district is 19, which is –
Sanganer, 2. Malviya Nagar, 3. Vidyadhar Nagar,
4. Shahpura, 5. Kishanpol, 6. Chaksu, 7. Viratnagar,
8. Phulera, 9. Jhotwara, 10. Adarsh ​​Nagar, 11. Civil Lines,
12. Dudu, 13. Amer, 14. Bagru, 15. Jamavaramgarh,
16. Hawa Mahal, 17. Chaumu, 18. Bassi and 19. Kotputli
Number of subdivisions in Jaipur district – 13
Number of Tehsils in Jaipur district – 16
Number of Gram Panchayats in Jaipur district – 15
Population data for Jaipur district as per 2011 census
Total population — 66,26,178
Male — 34,68,507, Female — 31,57,671
Official Website – https://www.jaipur.rajasthan.gov.in/
The King of Amer Sawai Jai Singh founded Jaipur on 18 November 1727 in the name of Jai Nagar. Jaipur is now the capital of Rajasthan. Jaipur is one of the famous tourist destinations in India. Jaipur is famous for its rich building-tradition, Saras-culture, and historical significance. The city is surrounded by the Aravalli ranges on three sides. The city of Jaipur is identified by the pink sandstones in its palaces and old houses, which is a specialty of its architecture.
Rivers and reservoirs in Jaipur district –
Banganga River – originates from the hills of Bairath, JaipurBandi River – This river originates from the Chaksu in Jaipur district. The Bandi River merges into the Manashi River near Chatrapura.
Bhandi River – This river originates from Achrol, Jaipur.
Sambhar Lake — This lake is located 65 km from the city of Jaipur on the border of three districts of Rajasthan, Jaipur, Nagaur, and Ajmer. Sambhar Lake has a length of 31 km from east to west and 13 km from north to south. Sambhar Lake is the largest inflow lake in Rajasthan. It is the largest natural lake of saltwater in Rajasthan
Wildlife Sanctuary in Jaipur District –
Jamavaramgarh – It was established on 31 May 1982. It is spread over 300 square kilometers.
Nahargarh Biological Sanctuary — The only organic park in Rajasthan is in Nahargarh, Jaipur. It was established on September 22, 1980. The sanctuary is spread over an area of ​​52.4 sq km around Nahargarh and Jaigarh Fort. This sanctuary is famous for Baghera, Sambar, Deer, Wild boar, Leopard, Leopard, Black bear, Chital, and Chinkara.
Nahargarh Sanctuary – Beer Rescue Center has been established here. It has been developed as an organic garden.
Sanjay Udyan Mrigavan – It is located in Shahpura, Jaipur. It was established in – 1986. It is spread over 10 hectares. This zoo is being developed as a rural consciousness center. Nilgai, Chital, Chinkara, etc. are found here.
Ashok Vihar Zoo – It has been developed in an area of ​​12.2 hectares in the middle of Jaipur. It was also founded in 1986 AD.
Jaipur Zoo  – was established in 1876 AD by Maharaja Sawai Ramsingh, between Ramnivas Bagh.
Historical and Tourist Places in Jaipur District
Jaigarh Fort – The name of this fort was named after Raja Jaisingh. In this fort, the only cannon-making factory of Rajasthan was established by Mirza Raja Jai ​​Singh. In which Sawai Jai Singh made the Jaiban / Ranbanka cannon which was the largest cannon in Asia. This cannon was fired once, whose shell fell in the Chaksu where Golerao pond was constructed where the ball fell.
Nahargarh Durg – It was built by Raja  Jaisingh in 1734 AD to avoid the Marathas In the construction of this fort, a person named Nahar was sacrificed, it is also believed that Nahar Singh used to destroy the work of day here at night. This fort was named after him, Nahargarh.
Fort of Chaumu – This fort was built by Thakur Karnasingh in 1595-97 AD. Near this fort is the temple of Samod Hanuman. One of its feet is dipped in the hill.
The fort of Madhorajpur – This fort was built by Jaipur Maharaja Sawai Madho Singh I after the victory over the Marathas.
Fort of Morija – It is located in Govindgarh, Jaipur.
Gaitor Ki Chhatriyan – Memorials to the Jaipur rulers.
Jantar Mantar – This observatory was built by Sawai Jai Singh in 1718 AD. It is the largest of the five observatories. There are four other observatories built by Jaisingh – Delhi, Mathura, Ujjain, and Varanasi.
Hawa Mahal — It was built in 1799 AD by Sawai Pratap Singh. It is a five-story building with 953 windows. Its architect was Lalchand. Its first floor is called Sharad Mandir, Second-Ratan Mandir, Third Vichitra Mandir, Fourth Prakash Mandir, and Fifth Hawa Mandir
Rambagh Palace — It was built by Ramsingh II.
City Palace (Chandramahal / / Rajmahal) – This seven-story building was constructed by Sawai Jaisingh under the supervision of architect Vidyadhar. Two of the world's largest silverwares are housed in the City Palace.
Jal Mahal – It was conducted by Sawai Jayasingh in Mansagar Lake
Bairath Civilization – The oldest center of Buddhism in Rajasthan is Bairath. The Bhabru inscription written by Ashoka's Brahmi script was discovered here in 1834 by Captain Burt. Bairath was also visited by the Chinese traveler Xuanzang. The statue of Mahatma Buddha was found here, which is the first known human statue of India.
Transport:
Jaipur  District is connected to all main cities in India by rail and road. Jaipur International Airport located in the  Sanganer, 11 km from the city center is the main air gateway to Jaipur.
RSRTC operates regular bus services to rural areas of the district to connect the main city.