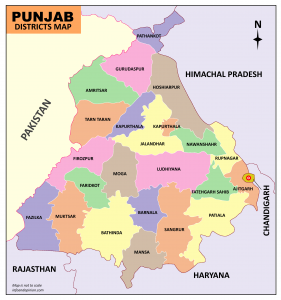 Punjab Map District
Punjab Map
Download the free map of Punjab in pdf form. You can use this map for educational and noncommercial purposes.
About Punjab
Located in the northwest corner of the country, Punjab is bounded by Pakistan in the west, Jammu & Kashmir in the north, Himachal Pradesh in the north-east and Haryana and Rajasthan in the south. Punjab is divided into 22 districts.
The total area of the state is 50,362 square kilometers (19,445 sq mi), where the arable area is under assured irrigation. The average elevation is 300 m (980 ft) above sea level, ranging from 180 m (590 ft) in the southwest to over 500 m (1,600 ft) around the northeast boundary.
Punjab extends from the latitudes 29.30° North to 32.32° North and longitudes 73.55° East to 76.50° East.
Chandigarh is a union territory and serves as the capital of the states of Punjab and Haryana. It is one of the earliest planned cities of post-independence India. Located in the foothills of the Shivalik, it is known in India as one of the best experiments in urban planning and modern architecture in the twentieth century.  Chandigarh was planned by the famous French architect Le Corbusier.
Punjabi, the official language of the state, is the tenth most widely spoken language in the world. It is also the fourth most spoken language in Asia. It is the only living language among the Indo-European languages which is a fully tonal language. The Punjabi language is written in the Gurmukhi Script. Besides Punjabi, Hindi, Urdu and the universally applauded English are the languages that are spoken in Punjab.
Punjab Outline Map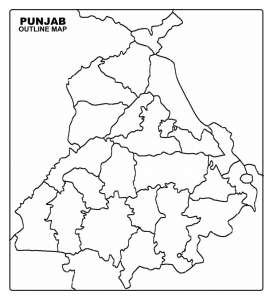 List of Districts in Punjab
| | | | | | |
| --- | --- | --- | --- | --- | --- |
| Code | District | Headquarters | Population (2011) | Area (km²) | Official website |
| AM | Amritsar | Amritsar | 2,490,891 | 2,647 | amritsar.nic.in |
| BA | Barnala | Barnala | 596,294 | 1,410 | barnala.gov.in |
| BA | Bathinda | Bathinda | 1,388,859 | 3,385 | bathinda.nic.in |
| FR | Faridkot | Faridkot | 618,008 | 1,469 | faridkot.nic.in |
| FT | Fatehgarh Sahib | Fatehgarh Sahib | 599,814 | 1,180 | fatehgarhsahib.nic.in |
| FI | Firozpur | Firozpur | 965,337 | 2,190 | ferozpur.nic.in |
| FA | Fazilka[3] | Fazilka | 1,180,483 | 3,113 | fazilka.nic.in |
| GU | Gurdaspur | Gurdaspur | 2,299,026 | 2,635 | gurdaspur.nic.in |
| HO | Hoshiarpur | Hoshiarpur | 1,582,793 | 3,365 | hoshiarpur.nic.in |
| JA | Jalandhar | Jalandhar | 2,181,753 | 2,632 | jalandhar.nic.in |
| KA | Kapurthala | Kapurthala | 817,668 | 1,632 | kapurthala.nic.in |
| LU | Ludhiana | Ludhiana | 3,487,882 | 3,767 | ludhiana.nic.in |
| MA | Mansa | Mansa | 768,808 | 2,171 | mansa.nic.in |
| MO | Moga | Moga | 992,289 | 2,216 | moga.nic.in |
| MU | Sri Muktsar Sahib | Sri Muktsar Sahib | 902,702 | 2,615 | muktsar.nic.in |
| PA | Pathankot | Pathankot | 676,598 | 929 | pathankot.gov.in |
| PA | Patiala | Patiala | 1,892,282 | 3,218 | patiala.nic.in |
| RU | Rupnagar | Rupnagar | 683,349 | 1,369 | rupnagar.nic.in |
| SAS | Sahibzada Ajit Singh Nagar | Mohali | 986,147 | 1,093 | sasnagar.gov.in |
| SA | Sangrur | Sangrur | 1,654,408 | 3,685 | sangrur.nic.in |
| PB | Shahid Bhagat Singh Nagar | Nawanshahr | 614,362 | 1,267 | nawanshahr.nic.in |
| TT | Taran Taran | Taran Taran Sahib | 1,120,070 | 2,449 | tarantaran.gov.in |