Rajasthan Map
You can view and download Rajasthan Map for free pdf. It can use educational and noncommercial purposes. These maps are not to scale.
Rajasthan  Map-Districts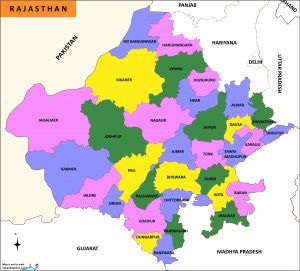 | | | |
| --- | --- | --- |
| Rajasthan Road Map | Rajasthan Admi. Map |  Outline Map |
Rajasthan is situated in the northwest of India. Rajasthan is the largest state in terms of area of ​​India, which is covered 11% of the land area of the Indian subcontinent. Rajasthan state came into its present form on November 1, 1956.
The state shares its border with Pakistan on the west and northwest side. It is bounded to the north and northeast by Punjab, Haryana and Uttar Pradesh to the southwest by Gujarat, and to the southeast by Madhya Pradesh.
The international border with Pakistan is about 1070 km long. Rajasthan has an area of ​​3,42,239 square kilometers.
This north Indian state is divided into 33 districts. The capital Jaipur is the most populated district in Rajasthan. Other districts are
Ajmer, Alwar, Banswara, Baran, Barmer, Bharatpur, Bhilwara, Bikaner, Bundi, Chittorgarh, Churu, Dausa, Dholpur, Dungarpur, Hanumangarh, Jaisalmer, Jalore, Jhalawar, Jhunjhunu, Jodhpur, Karauli.Kotta,Nagaur,Pali,Pradhapgarh,Rajsamand,Sawai Madhopur,Sikar,Sirohi,Sri Ganganagar,Tonk,Udaipur.