Alleppey is one of the most beautiful cities in India. The landscape and natural backwater and canal system of Alappuzha are very famous in all over the world. Hence, the nickname 'Venice of the East' becomes popular for Alleppey.  Alapuzha has a prominent position in the Indian tourist map.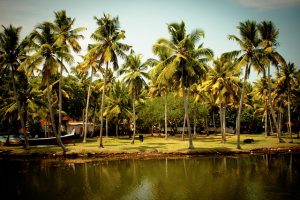 Kerala is rich in diverse landscapes. The valley, backwaters, beaches, houseboats, innumerable temples, and Ayurvedic treatments are all things that a traveler needs. Alappuzha is one of the most popular tourist destinations in Kerala. Without Alappuzha in your Kerala trip will remain imperfective
Official website: https://www.keralatourism.org/
Alleppey is Famous For
Alappuzha is also famous for the snake boat (Chundan vallam) race.
There are a number of boat races are conducted in August and September months. However, the most famous race is The Nehru Trophy Boat Race held on the second Saturday of August every year. It has been named after India's first Prime Minister Jawaharlal Nehru, which was inaugurated in 1952.
This amazing boat race fills excitement on every spectator. Many boats from different places participate in this historic race and offer an enchanting view to the visitors.
Another main attraction here is the luxury houseboat floating on the backwaters. Houseboat cruising along the backwaters is an unforgettable experience.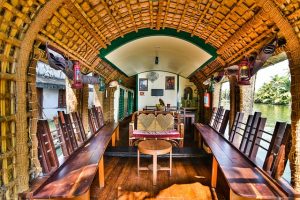 This houseboat itself is a big bungalow made of bamboo and wood floating on water. It consists of two or three bedrooms on the lower floor, which also have an attached bathroom arrangement. It has a long corridor. The front of the boat has a drawing room, outside which is a deck. Above this is a large hall, where the party can be held. It also has a kitchen, from where the food is arranged. Every houseboat has its own generator set, which supplies electricity.
They are also houseboat air-conditioned. They are so big and strong that while living in them you do not even know that they are walking on water. You can also book luxury houseboats online. From a one-day short stay to several days, stay is arranged here. Here on the houseboat, tourists also get a chance to taste the traditional flavors of Kerala.
Some of the popular tourist attractions in Alleppey
Pathiramanal in Alleppey
Pathiramanal, a small island in Vembanad Lake the largest lake in Kerala, is home to hundreds of migratory birds. Kumarakom Bird Sanctuary and Pathiramanal is a paradise for bird watchers. It is also a popular tourist attraction with full of natural beauty. This beautiful island is a must-visit for anyone on a lake trip. One can enjoy the beauty of the forest with its stone paths in the lush green forest and the beauty of the scene with mangroves and wild vines. It is only by boat that one can reach Pathiramanal land. It is an ideal place for resting the tourists who want to go for a backwater ride
Krishnapuram Palace
Kayamkulam is one of the most visited towns in Kerala. Krishnapuram Palace is one of the major tourist attractions of Kayamkulam. It is 47 km away from Alleppey city. The palace is 3.5 km away from the town of Kayamkulam. The palace is now maintained by the State Archaeology Department. There is also a museum, which houses some artifacts.
Alleppey beach
Another biggest attraction in the city is Alleppey Beach. The blue seawater, which is spewing with golden sand particles, is seen making a magical sound. The main attraction is the century-old Alleppey Seaport and Lighthouse. Enjoy the beauty of the beach along the backwaters. The special thing is that it is not very crowded, so this place is best for a quiet beach holiday. A large number of Hotels and Luxury Resorts are built around here. In addition, there are many beautiful homestays on the roads leading to this beach, where you can get to know the Malayali family culture by staying.
Ambalapuzha Sree Krishnaswamy Temple
Ambalapuzha Sree Krishnaswamy Temple is one of the most important Krishna temples in Kerala, which merges history and mythology. The world-famous Ambalappuzha Paal Payasam (a sweet dessert) and Ambalapuzha Velayi are associated with this temple. It is a rare shrine dedicated to the Parthasarathy concept. The temple has witnessed many artistic, cultural and historical events.
How to Reach Alleppey
By Air
Nearest Airport is Cochin International Air Port 78 kilometer away from Alleppey city. Thiruvananthapuram International Airport is from Alleppey is 159 kilometer
By Rail
Alleppey district has connected with two railway lines. Ernakulum–Kayamkulam coastal railway line passing through the Alappuzha railway station.  Whereas Ernakulum-Kottayam-Kayamkulam line passing through the eastern region of the district.
By Road
Alleppey is linked with very well by the National and State Highways in the rest of Kerala. National Highway 66 is one of the longest national highways in India passes through the city.