Now you can generate E PAN Card yourself in such minutes through Aadhar
E-PAN Card is a digitally signed PAN card issued in electronic format by the Income-tax department.
Now you will not have to wait for 15 or more days for PAN card. The government of India has launched the facility of generating and downloading PAN cards on the website of Income Tax. Now you can be a PAN card holder within just 10 minutes.
Find out how you can generate your Permanent Account Number online yourself…
Eligibility to Apply for E PAN Card
PAN applicants who have an Aadhaar number from UIDAI and have registered their mobile number with Aadhaar, can apply for an E PAN Card.
The mobile number of PAN applicants should be registered with UIDAI in the Aadhar database.
How to generate an E PAN Card
For this, you first have to go to the income tax department's website www.incometaxindiaefiling.gov.in.
On the left side of it, the option of 'Quick Links' will appear, in which the option of 'Instant PAN through Aadhaar' is given below, you have to click on it.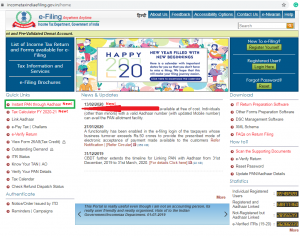 On clicking, a new page will open in front of you. Here you will see two options: "Get New PAN" and "Check Status / Download PAN". If you do not have a PAN card, then the first option has to be selected.
As soon as you click on "Get New PAN", a new page will open.
You have to enter your Aadhaar number. After this, the captcha code has to be written below. Will have to be confirmed after this, you will get Aadhaar OTP on your mobile which is already liked with your Aadhar.
As soon as you enter it, you will get a message, which will contain the acknowledgment number of the PAN card. You will also receive this over email.
Before verifying the details, you have to keep in mind that the mobile number entered with Aadhar is present to you because OTP will only come on it.
How to download E PAN Card
After receiving the acknowledgment number of the PAN card, you have to download it. Once again, you have to go to www.incometaxindiaefiling.gov.in and open the website and click on Instant PAN through Aadhar. After that click on the 'Check Status of PAN' button.
After this, once again enter your Aadhar number in the space provided, and then submit the OTP sent to the Aadhar registered mobile number. Upon entering this password, you will have the option to download it. A copy of the e-PAN will be downloaded as soon as it is clicked.
Compare New Income Tax Slabs 2020 with Old Slabs on E-Calculator