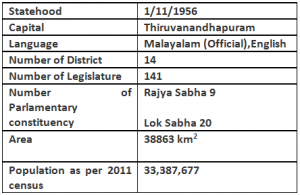 Website:https://kerala.gov.in/
Kerala is the state of the southwest of India. The state of Tamil Nadu lies in the East, Karnataka in North, and the Arabian Sea in the west. Malayalam is the official language of the State. Thiruvananthapuram is the capital of Kerala. In 1956, the state of Kerala came into existence with consisted old Travancore (excluded today's Nagar Kovil, Kanyakumari taluks of Tamilnadu) and Kochi, Malabar and Kasaragode in old Madras state on a linguistic basis.
This state is blessed with breathtaking landscapes, valleys, rivers, and backwaters. The abundance of water adds to the agricultural and forest wealth of the region. Spices are highlighted in the agriculture sector. The most beloved pepper for foreigners is this beautiful state's contribution. Foreign spheres have come here and have started trading with these spices. Art and culture, as well as festivals and the natural coordination of beautiful contradictions, can be seen in Kerala.
Major cities: Ernakulam, Thiruvananthapuram, Kozhikode, Thrissur, Malappuram, Kannur, Palakkad.  are the major cities.
List of Kerala Districts
| | |
| --- | --- |
| 1 | Alappuzha |
| 2 | Ernakulam |
| 3 | Idukki |
| 4 | Kannur |
| 5 | Kasaragod |
| 6 | Kollam |
| 7 | Kottayam |
| 8 | Kozhikode |
| 9 | Malappuram |
| 10 | Palakkad |
| 11 | Pathanamthitta |
| 12 | Thiruvananthapuram |
| 13 | Thrissur |
| 14 | Wayanad |
Interesting place to visit.
There are hundreds of places attracting visitors. Name of few places from them is Alleppey, Kumarakom, Wayanad, Kovalam, Vagamon, Thekkady …
 Cuisine
This beautiful state is famous for its spicy veg and nonveg Cuisine
They are
SADHYA – Traditional vegetarian feast of Keralites
APPAM – STEW
IDIYAPPAM
DOSA – SAMBAR
MALABAR BIRIYANI
SPICY KERALA CHICKEN FRY
MALABAR PAROTTA
PRAWN curry
CHICKEN CURRY
FISH CURRY
PAYASAM
And more and more.
Weather Condition
The State has a moderate climate, not extreme cold or extremely hot. It has two monsoons. South Westen Monsoon in June to September and North Eastern Monsoon from October to December. Winter and summer are the other weather conditions experiencing in there.
Major Institutions
Educational institutions
The State is one of the famous educational destinations in India. There are plenty of opportunities for formal and higher education in every district. It has various state and central universities and two deemed universities.
Names of some State Universities
Calicut University, Trichy Palary, Malapuram District, Kozhikode-673 635
Kannur University, Kannur-670 562
Kerala Agricultural University, Thrissur- 680 656
Kerala University, Thiruvananthapuram – 695 034
Mahatma Gandhi University, Kottayam – 686 560
National University of Advanced Legal Studies (NUALS) Kaloor, Kochi – 682 017, Kerala.
Shree Sankaracharya University of Sanskrit, Kalady-683 574.
Sree Chitra Tirunal Institute of Medical Sciences & Technology (Trivandrum).
Cochin University of Science & Technology, Kochi-682 022
 Name of Central Universities
Central University of Kerala, BKM Towers, Nayanmar Moola. Vidyanagar P.O., Kasaragod – 671 123
Names of Deemed Universities
Kerala Kalamandalam Vallathol Nagar, Thrissur Indian Institute of Space Science and Technology Thiruvananthapuram
Amrita University, Kochi
Hospitals and medical institutions
There are enough famous medical institutions and super/multi-specialty hospitals are available
Transported
The State is well connected with rail and road. It has four international airports. Thiruvananthapuram International airport Thiruvananthapuram, Nedumbasery International airport Kochi, Karipur International airport Kozhikode, Kannur International Airport Kannur.