Europe Map
The image of the Europe map shown belove is made to understand the location and names of countries in general. The image of the Europe Map or the pdf version of it can be used for free by anyone. On this map, there may be mistakes in some very delicate matters. There is, of course, some distortion of the geographical features of how the map is made to represent circular earth on a flat map. Therefore, Infoandopinion will have no responsibility for the authenticity of this Map of Europe.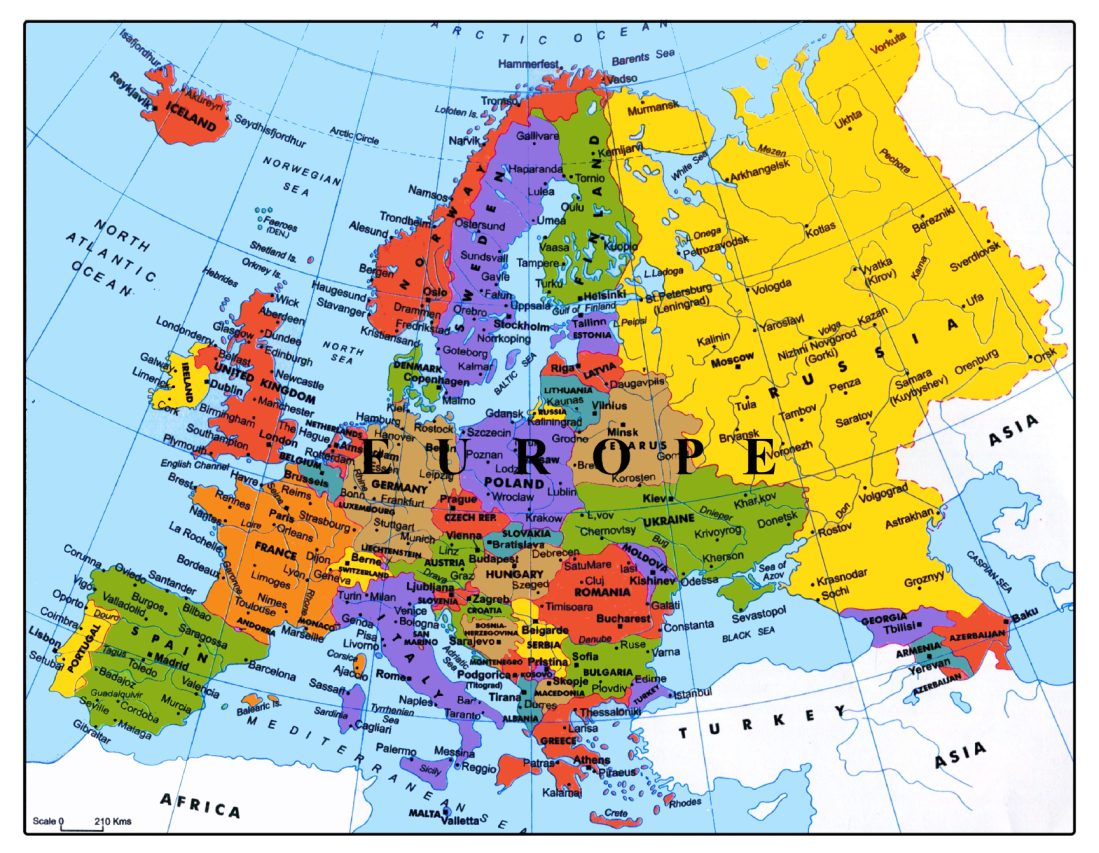 Europe Map Blank
Europe is the second smallest continent (using the seven-continental model), covering 2% of the Earth's surface (6.8% of the land area) or approximately 10.18 million km2 (3.93 million square miles). Recognized as part of Eurasia, the continent is located entirely in the northern hemisphere and mostly in the eastern hemisphere. It shares the Afro-Eurasian landmass with Asia and Africa. It is bordered by the Arctic Ocean to the north, the Atlantic Ocean to the west, the Mediterranean Sea to the south, and Asia to the east. Europe is generally considered to be separated from Asia by the watersheds of the Ural Mountains, the Urals, the Caspian Sea, the Greater Caucasus, and the Gulf of Turkey. Europe was about 746 million (approximately 10% of the world's population) by 2018.
How many countries are in Europe?
There are 47 Countries in Europe.
Name of the Countries in Europe Map
Russia, Ukraine, France, Spain, Sweden, Norway, Germany, Finland, Poland, Italy, United Kingdom, Romania, Belarus, Kazakhstan, Greece, Bulgaria, Iceland, Hungary, Portugal, Austria Czech Republic, Serbia, Ireland, Lithuania, Latvia, Croatia, Bosnia and Herzegovina, Slovakia, Estonia, Denmark, Switzerland, Netherlands, Moldova, Belgium, Albania, North Macedonia, Turkey, Slovenia, Montenegro, Kosovo, Azerbaijan, Luxembourg, Georgia, Andorra, Malta, Liechtenstein, San Marino, Monaco, Vatican City, Cyprus, Armenia
Which is the largest country in Europe?
Russia is the largest country in Europe. This world's largest country lies on two continents Europe and Asia. Ukraine is the second-largest country in Europe.
Which is the largest mountain range in Europe?
The Alps are the highest and largest mountain range in Europe, It has stretching (from west to east) approximately 750 mi (1,210 km) across eight countries (called Alpine countries): France, Switzerland, Monaco, Italy, Liechtenstein, Austria, Germany, and Slovenia.
Which is the longest river in Europe?
The longest river in Europe is The Volga. This is the national river of Russia flowing at a distance of 2294 miles. Other major rivers are the Danube,  the Loire, the Rhine, and the Elbe.
Image of World Map-Download Free World Map in PDF