Nainital has images of rocky paths, glimpses of lakes and forests. Away from the bustling city life, Nainital offers a tranquil environment, enhancing beauty by Victorian lamp posts and a scenic charm.
Nainital is located in the Kumaon foothills in Uttarakhand. It is one of the most famous hill stations in India since the British era. It's set around a natural freshwater body called Nainital Lake. The word Nainital is a combination of two words Naini and Tal. Naini means 'eye' and Taal means 'lake'.
Some great places to visit in Nainital
Naini Lake – Naini Lake is the major attraction of the city of Nainital. It is called the Lake District of India because it is surrounded by lakes everywhere. Situated in the midst of snow-capped mountains, this place is surrounded by lakes. The most prominent among these is the Naini Lake, in which the place is named after the name Nainital. This lake is considered one of the 64 Shakti Peethas. The lake is divided into two sections – Tallital and Mallital. Naini Lake is famous for boating, water sports, photography, and sightseeing.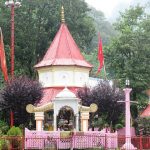 Naina Devi Temple – Naina Devi Temple is a famous Indian pilgrimage located at the northern end of Naini Lake in the center of the city. This temple is one of the 64 Shakti Peethas or shrines where parts of the burnt body of Sati fell to the earth while being carried by Lord Shiva. In this temple, it is raining blessings on the devotees coming from all over the world. There is a peepal tree here which looks like giving shelter to visitors in Naina Devi temple.
Tiffin Top – Tiffin Top is located at an altitude of 7520 feet above sea level, which is also known as the Dorothy seat, about 4 km from the city. It is the most visited picnic spot of Nainital. Tiffin Top is a delight for visitors. It is visited by those who enjoy and love capturing the beauty of nature. It is famous for picnic spots, hiking, and viewpoints.
Snow View Point – Snow View Point is an attractive tourist destination located about 3 km from the city. The snow-capped mountains are the best view to see here. December to January is the best season to visit this place, as snowfall in Uttarakhand is predicted from December to January.
Pan Govind Ballabh Pant High Altitude Zoo – Also called Nainital Zoo is one of the best attractions for animal lovers. It is located at 'Sher Ka Dhanda', 2 km from Tallital Bus Stand. Nainital Zoo is home to various rare species like Royal Bengal Tiger, Sambar, Tibetan Wolves, Leopard Cat, Barking Himalayan Bear, and Deer. It is the only zoo in the state of Uttarakhand. The zoo charged Rs 50 per person for adults and Rs 20 per person for children. The zoo timings are from 10 am to 4:30 pm except Mondays. The zoo is closed on holidays.
Eco Cave Garden – This garden is located in the Mallittal region of the district and is maintained by Nainital Tourism. This is a great adventure for children and animal lovers. It is just 1 km from  Mall Road. A number of students visit the Eco Cave Garden to find out how real-life housing works. There are many caves that look like natural habitats. These are Tiger Cave, Panther Cave, Bat Cave, Squirrel Cave, Flying Fox Cave, and Monkey Cave. The family is famous for picnics, especially with children.
Mall Road – Mall Road is the main shopping and over-crowded area of ​​the city. It is the busiest road in the day time. The Mall Road is 1.5 km long and connects the two ends of the city of Nainital, Mallital, and Tallital. This market is famous for various types of candles. Tourists can buy various types of handicrafts here which are the specialty of Nainital.
How to Reach Nainital
Delhi is the main transit point of travel to Nainital. The road distance between Delhi and Nainital is around 300 km and the air distance is 235 km. From Delhi, you can reach Nainital by various modes of transport.
By Air
Nearest airport – Pantnagar Airport situated about 70 km from Nainital. Air India operates regular flights from Delhi to Pantnagar.
By Rail
Nearest Railway Station-Kathgodam is the nearest railway station located 35 km away from Nainital. This last railway station of the northern railway is being connected with various places of India such as Delhi, Lucknow, Dehradun, Howrah, etc. Other preferable railway stations are Haldwani (40 km) and Lalkuo (56 km).
15059-Lalkuan – Anand Vihar Terminal InterCity Express Exp
15036-Uttaranchal Sampark Kranti Express SKr
12039-Kathgodam – New Delhi Shatabdi Express Shtb
15014-Ranikhet Express (PT) Exp
For more details – http://www.indianrail.gov.in
By Road
Nainital is connected to National Highway number 87. Transport Corporation buses run regularly to places like Delhi, Agra, Dehradun, Haridwar, Lucknow, Kanpur, and Bareilly, etc. From here luxury coaches for various places are also available through private operators.
Entry of heavy traffic on Mall Road in Nainital for the months of May, June, and October is prohibited from 8.00 am to 10.30 am and 2.30 pm to 10.30 pm. Entry of light vehicles is prohibited from 6.00 p.m. to 10.00 p.m. and cycle rickshaws from 6.00 p.m. to 9.00 p.m.
Tourist places of Karnataka-10 Twin Spots to Enjoy Your Weekend