Tourist Places in Ahmedabad
Ahmedabad is a historic and modern city founded by Sultan Ahmed Shah in 1411 on the banks of Sabarmati. Here, a unique harmony of the shared cultural heritage of Hindu-Muslims can be seen with buildings, palaces, tombs of historical and archaeological importance. Ahmedabad is one of the major industrial cities of the country. It is also called "Manchester of the East" due to textile mills.
Apart from being home to many important industries, Ahmedabad has many majestic monuments, which remind us of the great historical and cultural past of the city. A major center of higher education, information technology, and scientific industries, Ahmedabad remains one of the vital cultural and commercial centers of Western India.
The city of Ahmedabad is known for its diverse culture. The people of Ahmedabad, India are very vibrant and cherish every moment of their life. They believe in living in a very simple way. When it is time for the celebration, the entire city gets excited and celebrates the festive occasions with vigor and enthusiasm. People here are very fond of food which explains why restaurants and cafes are always gathered by people in Ahmedabad.
The city of Ahmad Shah, Ahmedabad has a lot of historical monuments, which serve as the main tourist attraction sites of the city. The architectural design of the Ahmedabad monuments shows a mixture of Hindu and Islamic styles. The origins of most of the historical monuments of Ahmedabad, Gujarat can be traced back to the 15th century. Let us tell you in detail about the tourist places of Ahmedabad due to which Ahmedabad is famous.
Tourist Places in Ahmedabad: Gandhi Ashram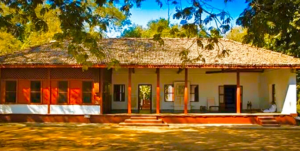 Situated on the banks of the Sabarmati River, 7 km from the city, this ashram was established in 1915 by Mahatma Gandhi. This place has been the center of the freedom movement for many years. Dandi March was started by Gandhiji in 1930. Here Gandhi Smriti, Hriday Kunj Hospital and Sound Light Program are worth seeing
Tourist Places in Ahmedabad: Bhadra Fort
When it comes to monuments in Ahmedabad, Bhadra Fort is a name that really deserves a special mention. Constructed in 1411 A.D., during the reign of the Marathas, it was founded by Sultan Ahmed Shah, the founder of the city of Ahmedabad. Bhadra Fort in Ahmedabad is a royal fort that occupies the top position in sightseeing of Ahmedabad. In front of it, there is a beautiful doorway called Teen Darwaza, which the Sultan used to watch events in the palace. The Marathas won this fort and built the temple of Bhadrakali in it and gave this name to the fort.
Tourist Places in Ahmedabad: Swinging Minarets
The swinging minarets of Ahmedabad are wonderful examples of Muslim architectural craftsmanship. Jhulta Minar is a part of Masjid Siddi Bashir. The mosque has been constructed in such a way that, if you apply some strength to the upper arc, the other starts moving on its own. It was built in 1450 by Mallik Shah Rangasha.
Tourist Places in Ahmedabad: Sarkhej Roja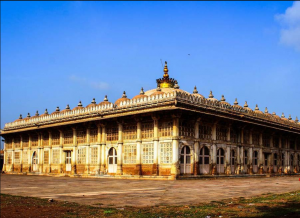 Sarkhej Roza was a Muslim religious leader and was home to a spiritual leader of Sultan Ahmad Shah named Ahmad Kattu Gang Baksha, lying 8 km on the southwest coast of Ahmedabad. It consists of a group of monuments, which can be traced back to the time of Mughal rule in Ahmedabad.
Tourist Places in Ahmedabad: Jama Masjid
It was built by Ahmed Shah in 1423 AD. Situated in the center of the city, this mosque has 260 pillars and 15 domes. It is counted among the most beautiful mosques in the country. Beautiful specimens of Hindu architecture are seen on the walls of the mosque. This mosque is built of yellow sandstone.
Tourist Places in Ahmedabad: Rani Rupmati Mosque
This mosque, built-in memory of Rupmati, the Hindu wife of Sultan, is worth seeing from the point of view of architecture. 3 domes rest on 12 pillars. When standing in the central part of the mosque, there is a lot of light, while the sun does not reach there directly.
Tourist Places in Ahmedabad: Kankaria Lake
This beautiful round-shaped lake was built by Sultan Qutubuddin in 1451 AD. There is a palace and garden in the middle of the lake which is called Naginabadi. Now it is a beautiful picnic spot. Children's park, zoo, aquarium, etc. built around the lake also attract tourists a lot.
Tourist Places in Ahmedabad: Jain Temple
It is a beautiful white marble and artistic Jain temple built by a wealthy businessman from Ahmedabad in 1850. There are 52 small other temples built all around the temple premises. The inner artistry of the temple is worth seeing.
Apart from these, Stepwell in Adalag(Gandhinagar), Akshar Dham Temple Gandhinagar, Rani CP Mosque, Shah Alam Roja, Shahi Bagh Mahal, Textile Museum, etc. are also worth seeing in Ahmedabad and nearby sightseeing places.
Nearby Tourist Places in Ahmedabad at 100 Km
Lothal City
Situated 80 km from Ahmedabad, the city of Lothal is one of the famous cities of the ancient Indus Valley Civilization. The origins and history of Lothal can be traced back to 2400 BC. Lothal is one of the primary sites of archaeology in Gujarat.
Modhare Sun Temple
Located 102 km from Ahmedabad, on the banks of the Pushpavadi River, the Modera Sun Temple was built in 1026 AD. It was founded by King Bhimdev of the Solanki dynasty in the dedication of Lord Surya. It is one of the finest architecture of the eleventh century. One of the best features of the temple are the carved Tarana arches.
Nal Sarovar Bird Sanctuary
Located 70 km from Ahmedabad, Nal Sarovar Bird Sanctuary is basically a natural lake that makes an excellent excursion. Spread over an area of ​​116 square kilometers, it is known for the beautiful birds that migrate from Siberia. Bird Sanctuary Nal Sarovar serves as a monotonous retreat in the midst of the bustle of city life. Also, Visit – Rann Utsav Gujarat
How to reach Ahmedabad
Airways – Ahmedabad (Ahmedabad) is connected by air to all major cities of the country like Delhi, Mumbai, Kolkata, Chennai, Bangalore, etc. Being an international airport, air services are also available to Ahmedabad from abroad.
Rail route – Ahmedabad is directly connected with tourist places like Delhi, Mumbai, Jaipur, Jodhpur, Chennai, Bangalore, Jammu, and Kashmir, etc.
By Road – Ahmedabad (Ahmedabad) is connected to many cities of Gujarat by bus route. Apart from this, Rajasthan, Madhya Pradesh, Mumbai, and Delhi are also connected by bus routes.
Tourist Places in Ahmedabad &Travel tips
For those who are planning a trip to Ahmedabad, we have given some useful suggestions. The suggestions made for Ahmedabad travelers will not only help you to take care of your belongings but also ensure that you enjoy a smooth journey and a comfortable stay in Ahmedabad
Respect the customs and traditions in Ahmedabad. Do not use derogatory or rude language that does not like to be heard. By saying bad words, you can get yourself in trouble so do nothing against the code of conduct established by local activists.
Do not indulge in unethical acts like damaging the heritage buildings of Ahmedabad. If you dare to do so, you may face serious consequences.
Wherever you go, fraud will be around you, so you have to be careful with them. From porters to tourist guides to auto-rickshaw drivers, everyone will try to get you more money and mislead you.
You can wear any type of outfit in Ahmedabad but do not put on costumes that reveal your body.
Do not roam in isolation. It is always better to walk in a group.
Beware of pickpockets and do not travel in public transport with a lot of cash in your pocket.