All persons having PAN (Permanent Account Number) of the Income Tax Act 137AA should  linked with Adhaar before April 1. The pan is considered invalid unless linked to that date. Those who do not have a taxable revenue are also using the pan for many economic purposes. Such people should also their pan card link with Adhaar within March 31.
Unless you did not link it with Aadhaar by March 31, many problems may come in the future. In last year, the government deactivated over 11.44 lakh Pan cards. After the last day  March 31st, the unlinked pan cards may de-active. If the Pan is inactive, you will not able to file the return and not able to receive a refund.
You can  link PAN with Adhaar either online or send an SMS from your registered mobile number.
PAN Card Link with Adhaar through online.
Step 1. Visit the website Income Tax e-Filing.
Step 2. Click "Link Adhaar".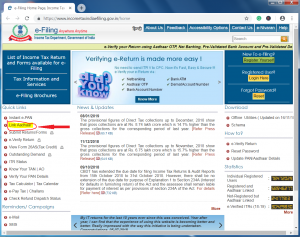 Step 3. Enter PAN and Adhaar Number.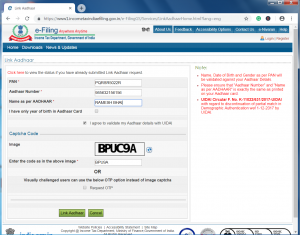 Step 4. Enter Name same as mentioned in Adhaar.
Step 5. If there is only your birth year (without date) mentioned on Adhaar Card tick the check box.
Step 6. Enter the Captcha (Also you can select OTP verification through your registered mobile number).
Step 7. Click "Link Adhaar"
Step 8. You will see a pop-up window  that have the message "Your Adhaar will be successfully linked with your PAN".
PAN Card Link with PAN by Sending an SMS.
Send the message "UIDPAN<12 Digit Adhaar number><10 Digit PAN>" from your registered mobile number to either 567678 or 56161.