Uttar Pradesh Map:- Download map of Uttar Pradesh free of cost in pdf. You can use this map for educational and noncommercial purposes.
Uttar Pradesh is the most populated state in India situated in the northern part of the country. Uttar Pradesh is the fourth largest state in India by an area which covers 7.34 % of the land area. The actual figure of the land area is 243,290 square kilometers. Uttar Pradesh is bounded with the state of Uttarakhand along with Nepal on the north, the state of Rajasthan on the west, the states of Haryana, Himachal Pradesh and the union territory Delhi on the northwest, Bihar on the east and Madhya Pradesh on the south. The states of Jharkhand and Chhattisgarh touch the southeast border of Uttar Pradesh.
This most populated state in India is divided into 75 districts under 18 administrative divisions. Lucknow is the capital of Uttar Pradesh. Ganga and Yamuna are the two major river streams flowing through the state.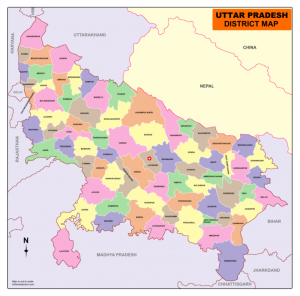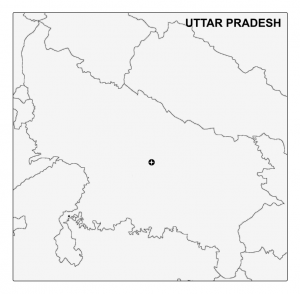 The names of the 18 Administrative Divisions are
Saharanpur,Moradabad,Bareilly,Lucknow,Devipatan,Basti,Gorakhpur,Meerut,Aligarh,Agra,Kanpur,Faizabad,Azamgarh,Jhansi,Chitrakoot,Allahabad,Varanasi and Mirzapur.
Uttar Pradesh Map
Name of the 75 Districts in Uttar Pradesh
Agra

Aligarh

Allahabad

Ambedkar Nagar

Amethi

Amroha

Auraiya

Azamgarh

Badaun

Bagpat

Bahraich

Ballia

Balrampur

Banda District

Barabanki

Bareilly

Basti

Bijnor

Bulandshahr

Chandauli (Varanasi Dehat)

Chitrakoot

Deoria

Etah

Etawah

Faizabad

Farrukhabad

Fatehpur

Firozabad

Gautam Buddha Nagar

Ghaziabad

Ghazipur

Gonda

Gorakhpur

Hamirpur

Hapur District

Hardoi

Hathras

Jaunpur District

Jhansi

Kannauj

Kanpur Dehat

Kanpur Nagar

Kasganj

Kaushambi

Kushinagar

Lakhimpur Kheri

Lalitpur

Lucknow

Maharajganj

Mahoba

Mainpuri

Mathura

Mau

Meerut

Mirzapur

Moradabad

Muzaffarnagar

Pilibhit

Pratapgarh

PrayagRaj

Rae Bareli

Rampur

Saharanpur

Sambhal

Sant Kabir Nagar

Sant Ravidas Nagar

Shahjahanpur

Shamli

Shravasti

Siddharthnagar

Sitapur

Sonbhadra

Sultanpur

Unnao

Varanasi (Kashi)
Give us a like if our effort seems useful to you!