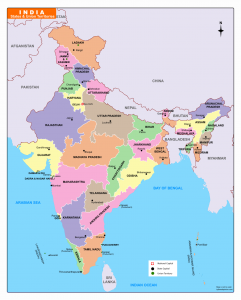 Here you can see and download India map for free and the list of Indian state and Union territories and their capitals. You can use this pdf map for educational and noncommercial purposes.
Indian States and Capitals
India has 28 states and 9 union territories. Some states have two capitals because of their extreme weather conditions. They are shifting their capital in winter and summer between the two cities.
Here is the list of Indian states and capitals in India Map
S.No
State
Capitals
1
Andhra Pradesh
Hyderabad (de jure)
Amaravati (de facto)
2
Arunachal Pradesh
Itanagar
3
Assam
Dispur
4
Bihar
Patna
5
Chhattisgarh
Naya Raipur
6
Goa
Panaji
7
Gujarat
Gandhinagar
8
Haryana
Chandigarh
9
Himachal Pradesh
Shimla (Summer)
Dharamshala (Winter)
10
Jharkhand
Ranchi
11
Karnataka
Bangalore
12
Kerala
Thiruvananthapuram
13
Madhya Pradesh
Bhopal
14
Maharashtra
Mumbai
15
Manipur
Imphal
16
Meghalaya
Shillong
17
Mizoram
Aizawl
18
Nagaland
Kohima
19
Odisha
Bhubaneswar
20
Punjab
Chandigarh
21
Rajasthan
Jaipur
22
Sikkim
Gangtok
23
Tamil Nadu
Chennai
24
Telangana
Hyderabad
25
Tripura
Agartala
26
Uttar Pradesh
Lucknow
27
Uttarakhand
Dehradun
28
West Bengal
Kolkata
Download the List of Indian States and Capitals in Pdf
List of Seven Union Territories  of India Map 2019 and their Capitals
S.NO
Union Territory
Capitals
1.
Andaman & Nicobar Islands
Port Blair
2.
Chandigarh
Chandigarh
3.
Dadra & Nagar Haveli
Silvasa
4.
Daman & Diu
Daman
5.
Lakshadweep
Kavaratti
6.
Puducherry
Puducherry
7
Delhi (NCT – National Capital Territory)
New Delhi
8
Jammu & Kashmir
Srinagar (Summer)
Jammu (Winter)
9
Ladakh
Kargil
Download India Map 2019  Political with Jammu & Kashmir and Ladakh